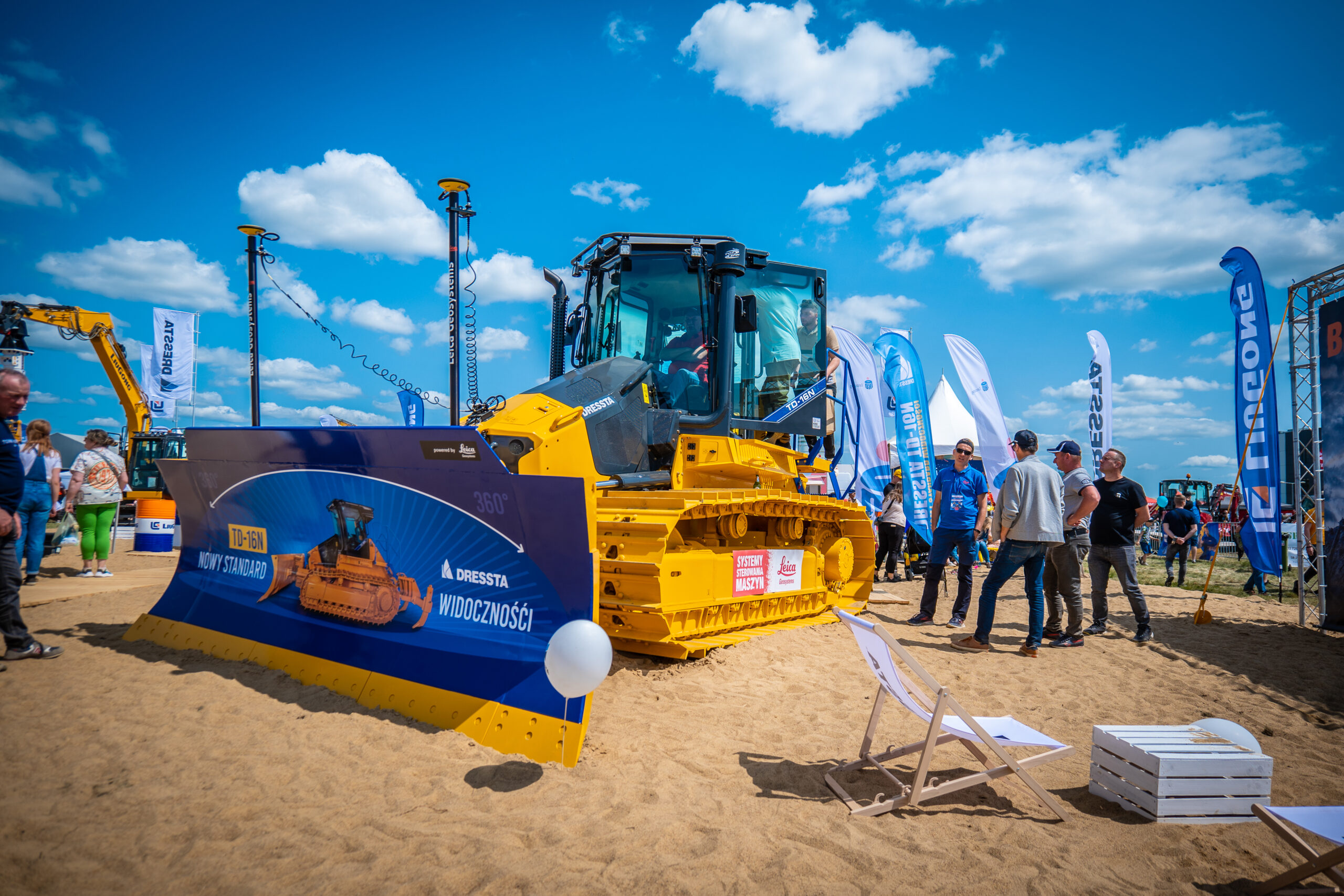 A Resounding Success at eRobocze Show 2023
LiuGong and Dressta, two leading names in the construction equipment industry, left an indelible mark on this year's eRobocze Show. With an impressive lineup of machines and a captivating chill-out zone, the brands showcased their commitment to innovation, performance, and customer satisfaction.
At the heart of the action were the four dynamic machines on display in the demo area. The mini excavators 9018F and 9027F, along with the powerful excavator 922F and the versatile wheel loader 877H, stole the show with their outstanding capabilities. These machines effortlessly demonstrated their precision, power, and efficiency, leaving attendees in awe of their performance.
In addition to the demo area, the LiuGong Dressta chill-out zone provided a haven for relaxation and interaction. This carefully crafted zone prepared using a whopping 200 tonnes of sand, transported visitors to a beach-like atmosphere in the middle of Lubien Kujawsko-Pomorskie. Attendees enjoyed the unique experience of lounging on sandy shores and soaking up the event's vibrant ambiance.
The chill-out zone catered to the needs of all attendees. Families were delighted to find a dedicated kids' corner where children could play and engage in fun activities under the watchful eye of our friendly staff. Parents could relax, knowing their little ones were having a blast in a safe and entertaining environment.
To further enhance the experience, complimentary drinks were provided, ensuring everyone stayed refreshed throughout the event. Attendees could enjoy a variety of beverages, quenching their thirst while exploring the impressive lineup of LiuGong and Dressta machines including the agile excavators 9018F, 9027F, and 913FCR, as well as the robust wheel loader 835H. To top it all off, the impressive Dressta TD-16N dozer stood tall, showcasing the new standard of visibility.
Adding to the ambiance, a talented DJ spun lively tunes, creating an energetic atmosphere reverberating through the chill-out zone. The music provided the perfect backdrop for conversations, networking, and a vibrant celebration of the construction equipment industry.
The attendance at the LiuGong and Dressta exhibition areas was overwhelming, with industry professionals, machine enthusiasts, and guests all flocking to witness the cutting-edge technologies and superior craftsmanship on display. The lively atmosphere, combined with informative discussions, engaging interactions, and the captivating chill-out zone, created an ideal platform for networking and exchanging insights with fellow industry leaders.
LiuGong and Dressta are renowned for their commitment to providing top-of-the-line equipment that meets the evolving needs of the construction industry. By participating in events like the eRobocze Show, they reaffirm their dedication to driving innovation and delivering exceptional value to customers.
The success of LiuGong and Dressta at the eRobocze Show 2023 sets the stage for even greater achievements in the future. These brands will continue to push boundaries, develop groundbreaking technologies, and redefine industry standards. Stay tuned for more exciting updates from LiuGong and Dressta as they continue to revolutionize the construction equipment landscape.
To see more please check the following link: https://youtu.be/-l-9f4OUdaY