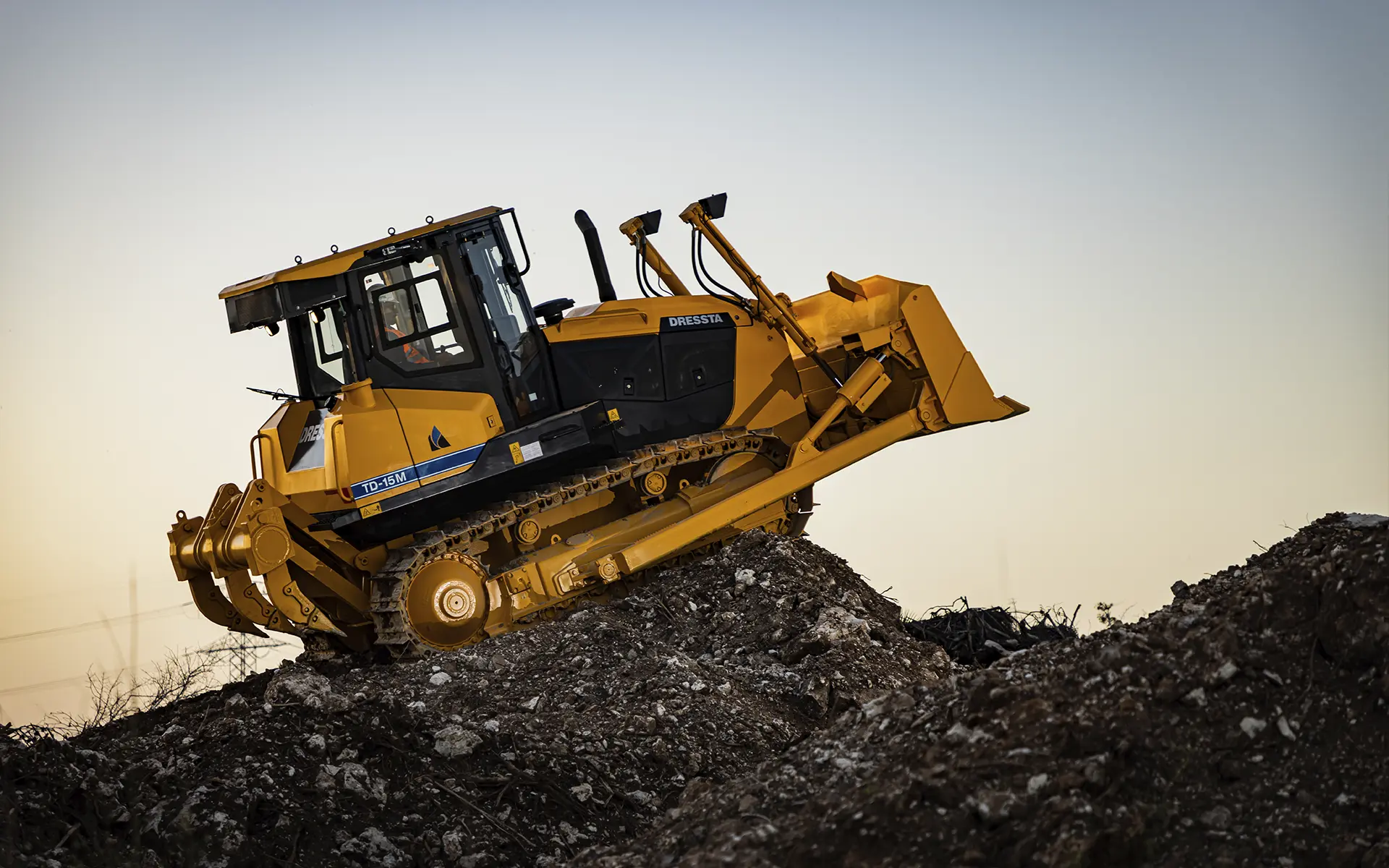 Endurance is at the heart of Dressta's New TD-15M crawler dozer
Endurance is at the heart of the Dressta brand and the new TD-15M takes endurance to the next level. Every weld and every component are rigorously tested to the limit. Its tough frame and versatile undercarriage have been designed to absorb the shattering impacts of the world's toughest jobsites. The hydraulics have been armed with even greater protection and the blade and ripper strengthened. To safeguard the engine from dust and debris the TD-15M benefits from clean and efficient hydraulically driven, variable speed fan.
"A dozer is only as strong as its weakest point," says Bartosz Kozik, Dressta Global Sales Director. "At Dressta, we don't do weakness. Our strength is in building world-class machines which deliver for the operator and the owner."
Putting the operator at the heart.
The operator's experience is central to the design of the new dozer with visibility, comfort, safety, power, and control all improved to deliver greater performance and operator satisfaction.
Improved visibility.
With 33% more glass surface area, a tapered engine hood presenting clear sightlines to the blade corners, an optional rear-view camera, and additional blade lighting, the TD-15M continues Dressta's commitment to safety and visibility. "Visibility is one of our core design considerations," says Gary Major, Executive Director of Industrial Design. "Across our range which includes the New TD-16N, the absolute benchmark for visibility, we have taken a proactive approach to maximising visibility for the operator. Our priority is to make our dozers safer and more productive and great visibility is key to both." Operator comfort has also been improved with an ergonomic control interface, improved seating and joystick and an ultra-low noise, low vibration cab.
Serious pushing power and control.
Powered by Cummins engine, delivering 232bhp and 1044Nm torque @ 1500 RPM, the TD-15M generates an impressive 472kN of drawbar pull. 2-speed steering drive maximises productivity by delivering 100% of the engine's power to both tracks, enabling perfect power turns with maximum load retention. Selectable drive and attachment modes improve the operational experience and performance, whilst load sensing hydraulics and electro-hydraulically controlled proportional joysticks allow accurate and sensitive control.
"Power and control go hand-in-hand," says Bartosz Kozik, "We've given the operator the tools to enjoy many happy hours of profitable dozing. In addition, with its modular layout with safe and easy access to maintenance points, lifetime lubricated rollers, heavy-duty chains, and idlers for extended track life, we've made significant steps to increase overall uptime and performance."
Awesome attachments.
As you would expect, the TD-15M comes armed with an array of heavy-duty attachments including, semi-U blades, straight and 6-way blades with optional foldable version and angle blades and a choice of rippers including X, Y and Z.
The start of a New Era.
Production of the TD-15M will start in June 2023 at Dressta's new, state-of-the art, fully-automated dozer production facility in Changzhou. This dedicated facility has a capacity of over 3,000 units and benefits from LiuGong's Quality Assurance processes. The new facility takes full advantage of major infrastructure investments in ports, rail, road and air connectivity in Changzhou and will see lead-times for machines reduced to circa 3 months.
"This new facility hearlds a new confidence and a new era for Dressta", says Dressta Chairman, Howard Dale, "We are investing now to future proof Dressta to meet the needs of today's and tomorrow's global customers with a rejuvenated dozer range, higher quality and lower lead times."